Phelps Twins to Narrate "Once Upon A Time" Story-Book Concert in UK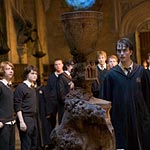 Sep 22, 2007
Uncategorized
Actors James and Oliver Phelps (Fred and George Weasley) are joining the famed Hallé symphony orchestra and conductor John Wilson for a family concert this October, that will combine the past-times of story-telling and music-making. Entitled: "Once Upon A Time … with James and Oliver Phelps," the twins will serve as narrators for this event taking place at Bridgewater Hall in Manchester, England.
From the announcement:
You can hear music from Harry Potter and The Philosopher's Stone, the delightful Cinderella story and Ravel's Mother Goose Suite, with its brilliant illustrations of Sleeping Beauty, Tom Thumb, Beauty and the Beast, the Enchanted Garden and even an Oriental Empress!
Hear the twins as they narrate the enchanting symphonic fairy-tale, Peter and the Wolf. Come and meet Peter and his friends, the bird and the duck, in Prokofiev's evocative piece – a wonderful way to introduce children and young people to the orchestra – as it paints the story of Peter's adventure with both words and music.
The concert takes place Sunday, October 21st at 3pm, tickets can be purchased from the box office or online via this website.
As the press release notes, dressing up as your favorite story book character for fancy dress is encouraged!
Thanks Chrissy!