New Interviews with Harry Potter Filmmakers David Heyman and Stuart Craig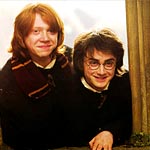 Sep 27, 2007
Uncategorized
We have several new audio interviews with Harry Potter filmmakers to tell you about today. In addition to the David Yates interview we first told you about a few days ago, Voices from Krypton have released further "Half-Blood Prince" related conversations with Harry Potter film producer David Heyman as well as an extended interview with production designer Stuart Craig. Mr. Heyman discusses the sixth film, and its director David Yates, describing the decision to bring Mr. Yates into the directors chair noting his ability to "bring a real reality to everything he does" which Mr. Heyman feels was very important due to the nature of the story in these films. You can listen to this most interesting interview here.
Production Designer Stuart Craig discusses the many new techniques used in the production of "Order of the Phoenix" as well as much more in this new four part interview available to for listening right here. While the subject of "Half-Blood Prince" is only briefly touched on, Mr. Craig talks about the planning and challenges in designing the sets for "Harry Potter and the Order of the Phoenix" and of the small ways the tone of the films affect his design.
Currently in production, Harry Potter and the Half-Blood Prince will be released in theaters November 21, 2008.
Thanks Professor!