Actor David Thewlis to JKR: Put more Lupin in Harry Potter Books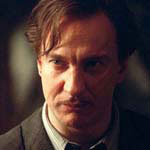 Sep 29, 2007
Uncategorized
The Sunday Herald has a new profile actor David Thewlis. In this funny and candid interview (note:slight language caution to parents) David discusses his new novel, his various acting roles, and mentions his return as Remus Lupin the upcoming Harry Potter and the Half-Blood Prince. Noting that he has been pleased with all the Harry Potter films to date, David Thewlis recounts his meeting with Harry Potter author J.K. Rowling:
"She was really lovely," he says. "She said she was very happy I was playing the part. Actually, she said Lupin was her favourite character. I said, Well put him in it more then.'"
No word on what David Thewlis thought about the role and adventures of Remus Lupin in the final installment in the series, Harry Potter and the Deathly Hallows. As reported previously, production is now underway on the sixth Harry Potter film, with Harry Potter and the Half-Blood Prince due in theaters November 21, 2008.