Limited Editions of Harry Potter Cover Art by Mary GrandPre Now Available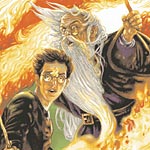 Jan 21, 2008
Uncategorized
The cover art for the US editions of the Harry Potter novels will soon be available to purchase from Art Insights. Limited signed editions of the cover art by Mary GrandPre will be available, starting with the release of the first three covers (Sorcerer's Stone, Chamber of Secrets, and Prisoner of Azkaban), and the remaining covers to be available in the near future. Each signed Harry Potter cover art is 11 x 25 in size, and retails for $425 for the unframed edition. Limited to just 500 pieces of each cover, you can also purchase a matched set of all seven covers (limited to just 100 each), with a special free image included for these sets only. For order information, click here.
In addition, Leslie from Art Insights was able to conduct a new interview with Mary Grandpre, which you can read below, where the artist discusses her favorite cover, working with Jo, and more.
Leslie: What part does J.K. Rowling play in all of this?
Mary: She looks over the sketches, and puts her ideas, her two cents in. She has always been such a pleasure, very easy to work with, always right on board with everything we've done.
Leslie: I'm sure lots of fans want to know, what was your favorite Harry Potter cover?
Mary: (pause) I'd have to say "Harry Potter and the Deathly Hallows" (book 7). It was the most mature. It had this dramatic explosive point. I did love them all, but the last one was definitely my favorite.
Leslie: I saw "The Devil Wears Prada", and was surprised they referenced you. What did you think of that? (in the movie, prepublication copies of the book are attained for Meryl Streep's kids to read, supposedly from the cover artist)
Mary: An art director friend of mine told me i had to see the movie. Definitely a work of fiction! It was funny, and surreal. In the real world that would never happen. i am absolutely sworn to secrecy. It did make me laugh, but the Potter thing is so exposed, I've become immune to it… I"ll be watching tv and see a shot of a poster or a piece of my art for the books. Or at the grocery store… People love Harry Potter so much, you see it everywhere!
Leslie: I know you love mermaids. You told me you used to draw them all the time as a child. How did you get started drawing, what got you interested, and when did you know you were an artist?
Mary: Growing up, we used to get National Geographic magazine and i loved looking at the women from all over the world. I loved the African women, they were so beautiful and so different from my experience–their faces, the beadwork and patterns in what they wore, it inspired me. i loved drawing things i wasn't familiar with firsthand–whether they were real or imaginary, they seemed more interesting.
Leslie: What about the magical element that seems the imbue much of your work?
Mary: I remember as a child, my favorites were Peter Pan and Snow White. The first characters i remember drawing were Mickey and Minnie Mouse and i got lots of praise and encouragement to continue drawing. i thought, "i must be good at this!"
Leslie: It must be great to have always been encouraged in your art. It doesn't always happen that way.
Mary: My parents always supported my love for art. I do remember later in life someone close to me, an artist, saying "You'll never amount to anything" which I'm glad to say just made me work harder! but now i only surround myself with positive people who support what Ilove to do.
Leslie: A lot of people are huge fans of your art. when did you know you were a success, that you'd made it?
Mary: I don't know if i feel like I'm there yet. To me success is something very personal. it isn't about how other people view me or my art, it's about how i feel about the work. i don't feel like I've done my best work yet. I do think it's coming into focus.
Leslie: That's really exciting. I look forward to seeing whatever you'll be doing next!