Harry Potter Books Make List of Top 50 Children's Books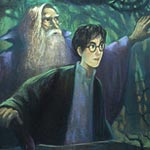 Feb 24, 2008
Uncategorized
The Telegraph has a new article online which notes the Harry Potter series and its inclusion on a list of the Top 50 Children's Books. The paper reports on a recent poll conducted by Booktrust, a charity promoting literacy for people of all ages, which asked 4,000 parents to choose the best children's books of all time. The sixth book, Harry Potter and the Half-Blood Prince, came in at number six, and was the only book by author J. K. Rowling to make the list. The article goes on to suggest that while the Harry Potter books were the fastest selling in history, parents seemed to 'believe in the superiority of the books they enjoyed as children over modern stories.' The top ten books on this list were:
1. The Lion, The Witch and The Wardrobe, C. S. Lewis
2. The Very Hungry Caterpillar, Eric Carle
3. Famous Five series, Enid Blyton
4. Winnie the Pooh, AA Milne
5. The

BFG

, Roald Dahl
6. Harry Potter and the Half Blood Prince, J. K. Rowling
7. The Faraway Tree, Enid Blyton
8. The Wind in the Willows, Kenneth Grahame
9. Alice in Wonderland, Lewis Carroll
10. The Gruffalo, Julia Donaldson
The poll also found that four out of five parents spend an average of 22 minutes reading to their children each night and half began the bedtime reading when their child was six months old.