PotterCast 143: Of Two Minds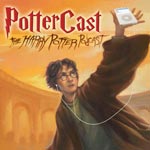 Mar 17, 2008
Uncategorized

The 143rd episode of PotterCast, our Harry Potter podcast, is online this evening with a lengthy discussion about the recent confirmation of a two part "Harry Potter and the Deathly Hallows" film, with Director David Yates and Screenwriter Steve Kloves returning as well. As it is the big news of the week, Melissa, Sue, and guest host Frak talk about the WB confirmation, David Yates and Steve Kloves returning, and reaction from various cast members and crew. Next, Bit-by-Bit covers the second half of Chapter Nine of "Harry Potter and the Deathly Hallows" where we discuss Draco's alliances and Harry's visions. Our Scribby Five girls are here as well talking about the "What Is the Crux of a Soul?" essay in their recently released issue of Scribbulus. Finally, in the fabulous, fierce, and furosh Wrap Up of this week's episode we make it work while talking some Harry Potter themed Project Runway ideas and much more. To listen, just hit the "Play" button on the right side of the page (–>), or use iTunes, or direct download.
"Of Two Minds"
– Two parts of Deathly Hallows? That's half the show¦
– Scottish book is underway.
– Draco's allegiance and Harry's visions.
– Grimmauld Place: Protection Charms are still working?
– Author Hilde (atschpe) joins Scribby hosts to discuss her essay in Issue 22, "What Is the Crux of a Soul? 7 Horcruxes ' 7 Chakras?"
– And we are flamboyant, spot-on, and fierce.
RT: 1:17:25
Editors: Stede Bonnett, Samantha McManus and Andrew Garner
Scribbulus
LeakyCon 2009: A Harry Potter Conference in Boston
Podcast Alley
Digg
Terminus 2008
Direct download (35 MB).
Direct download low-bandwidth (9 MB).
Remember you don't need an iPod to listen. Listen easily on iTunes, which you can download and install here, by clicking here to listen, or you can just use the streaming Flash player at PotterCast.com or just on the right side of this page. Discussion of the PotterCast is right here. Enjoy!