New "Half-Blood Prince" Set Teaser Report Mentions Slughorn's Christmas Party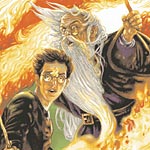 Mar 25, 2008
Uncategorized
A new "Harry Potter and the Half-Blood Prince" set teaser report has surfaced online, this from a Chilean magazine Wikén, that features new comments from actor Dan Radcliffe, director David Yates and producer David Barron. Our order partner Dan Radcliffe.com now has the full translation of the article, which mentions filming for Slughorn's Christmas party where the new Potions Master holds "party in his room for a selected group of students. Slughorn walks from one group to another chatting with his guests, trying to gain his favourite students' favour."
The article describes the upcoming sixth Harry Potter film as such: "Against all expectations, the sixth installment of the saga will not be as dark as the previous one. In spite of the tragic end of Harry's mentor, Dumbledore (Michael Gambon), the movie actually revolves around the awkward and comical romance between Harry and Ginny Weasley, sister of Harry's best friend Ron (played by Bonnie Wright, who made her debut in the second installment).
Actor Dan Radcliffe (Harry Potter) is quoted as saying "It's a complex story, it isn't a simple romance because Harry is such a close friend of Ron's, and Ginny is his sister, and Harry feels as if he's walking on eggshells". According to director David Yates, "the fifth [film] was pretty intense, but this one has more comedy in it (…) There are many subtleties in the relationship, and a lot of sexual and emotional tension."
Harry Potter and the Half-Blood Prince continues in production in England, and will be released in theaters on November 21. Thanks to DanRadcliffe.com!