JKR/WB vs. RDR Books Trial: Opinions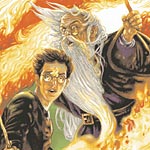 Apr 26, 2008
Uncategorized
Several public figures have voiced their opinions on the JKR/WB vs. RDR Books court case:
Hugo and Nebula award-winning writer Orson Scott Card claims that J.K. Rowling's "hypocrisy is so thick" that he "can hardly breathe".
He goes on to say:
"Once you publish fiction, Ms. Rowling, anybody is free to write about it, to comment on it, and to quote liberally from it, as long as the source is cited."
He predicts the outcome of the case:
"1. Publication of Lexicon will go on without any problem or prejudice, because it clearly falls within the copyright law's provision for scholarly work, commentary and review.
2. Rowling will be forced to pay Steven Vander Ark's legal fees, since her suit was utterly without merit from the start.
3. People who hear about this suit will have a sour taste in their mouth about Rowling from now on. Her Cinderella story once charmed us. Her greedy evil-witch behavior now disgusts us. And her next book will be perceived as the work of that evil witch."
(EDITOR'S NOTE: With regard to Mr. Card's statement that a published work of fiction may be written about or quoted "as long as the source is cited", note that plaintiffs JKR/WB's claim that the Lexicon book fails to properly quote or cite Ms. Rowling's works. Exact testimony regarding such is available here in the trial transcripts).
Game show Jeopardy! wiz Ken Jennings writes about the trial on his blog in an entry entitled "Harry Potter and the Glossary of Doom". He says:
"Books like The Harry Potter Lexicon are nothing new. When I was a kid, I had a bunch of unlicensed glossaries like these on my shelves: Robert Foster's Complete Guide to Middle-Earth, Bjo Trimble's Star Trek Concordance, etc. (Both of these books may later have been approved by their respective marketing empires, I'm not sure, but they were strictly fan-pub back then.) Even today, you can walk up to the TV/Movies shelf in a Barnes & Noble and find cash-in essay collections and reference works analyzing Lost, Firefly, The West Wing, and other hits. All these books profit by putting the Big Media Brand Name front and center on their covers'without the pop-culture teat, they wouldn't sell a single copy. Profiteers, right, "Jo"? Burn them all!"
Jennings also notes:
"…the plagiarism claims are silly. Direct quotes from the books are rare, and are used only in epigrammatic fashion. Rowling may be referring to the fact that the Lexicon does faithfully describe facts and events from her series, and at length, but that's an inevitable feature of any reference book. The literary references all look legitimate to me, as if due care has been taken to rephrase them away from Rowling's language."
On the subject of companion books, he says:
"In a free society, it's good that people can talk and write freely about art. Good things come out of a society being able to talk and write freely about art'whether the artist likes it or not. Fan-published "derivative works" are a tiny legal niche, but they're not an entirely unimportant one. Maybe you're a Gilmore Girls fan who'd love to see an index annotating and explaining the show's dense web of cultural references, or a U2 fan working on a complete concordance to their lyrics, or a Spider-Man fan with an issue-by-issue chronology of his Marvel Comics-owned "life" on your website. This stuff is going to keep disappearing if the legal precedents keep following the Twin Peaks and Castle Rock path."
(EDITOR'S NOTE: With regard to Mr. Jennings' statement that literary references are legitimate if "due care has been taken to rephrase them away from Rowling's language", note plaintiffs JKR/WB's claim that the Lexicon book too frequently uses JKR's exact language. Exact testimony regarding such is available here in the trial transcripts).
Finally, author Neil Gaiman follows up on his post from the 19th regarding the trial and fair use with two additional entries:
On the 24th, Mr. Gaiman's clarifies fair use for a reader of his blog with:
"As far as I can see it's only about a couple of really grey areas of copyright law—I suspect, and I am SO not a lawyer, that it will come down to whether or not what Mr Vander Ark had done to Ms Rowling's work in his Lexicon was sufficiently "transformative" as to render it a new work."
He offers as an example:
"If someone did a website in which everything in Sandman is listed in alphabetical order, as a concordance or lexicon… whether or not I was going to do one doesn't matter. Whether or not someone else is making money off my work and words and ideas doesn't matter. Whether it's a good lexicon or a bad lexicon doesn't matter. Whether it quotes me extensively may or may not matter (how extensively I'm quoted is a matter of Fair Use, but paraphrase me and you are home and dry on that count). What matters is whether it sufficiently transforms what I've done into something else by taking those entries and putting them into alphabetical order. "
Today, Mr. Gaiman writes a follow up on copyright, in which he posts a letter sent to him by one of his readers, a lawyer who co-authored a paper on fair use for the Journal of the Copyright Society of the United States. Leaky readers may find the letter informative.
Thanks as always to our readers who have emailed or posted links to articles or editorials on the trial.
Complete Leaky trial coverage can be found here.