Children's Laureate Comments on J.K. Rowling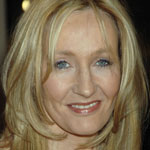 May 18, 2008
Uncategorized
UK Children's Laureate Michael Rosen has made some comments regarding Harry Potter author J.K. Rowling while on tour in Scotland to help promote literacy among students. The Times reports that author Michael Rosen said Harry Potter "deserved credit for encouraging a generation of children to read,[but] he feared their success might prevent youngsters from discovering other authors." The paper quotes Mr. Rosen as saying: "They don't grab me personally' he said. "I am distant from them whereas I read some kids' books and I get quite drawn in emotionally to them. Whereas authors like Enid Blyton are hand-holding narrators who lead children into safe environments, JK Rowling is more of an adult writer in that she leaves you hanging in the air at the end of chapters with no idea what's going to happen next.
"Figures appear and you don't know whether they are a goodie or a baddie. You would think, traditionally, ˜That's for an older reader,' because young children more often than not can't cope with that. My seven-year-old daughter watches the films but they tend to spell it out a bit more. I haven't read the books to her, you don't want to bore your kids."
Others disagreed, including the chairman of the panel of judges that chose Rosen as children's laureate. Shami Chakrabarti said ""I agree that children shouldn't end their reading with JK Rowling, but the proof of the pudding is that so many have begun with her work' she said.
"The stories are laced with contemporary themes that have resonated with readers of all ages in the last decade. Racism, the challenges of diversity and the dilemmas of the war on terror are all to be found lurking within the magical world of Harry Potter."
UPDATE: A blogger for the Guardian newspaper has contacted Mr. Rosen, who feels this matter has been blown out of proportion, and states that "I've been passionately defending Harry Potter against the literati for the past seven years. Mr. Rosen is cited as saying again that his seven year old child finds the books difficult, noting "Personally, as an adult, I don't read the Harry Potter books," he said. "I've read two-and-a-half of the books and no more. But there's nothing unusual or controversial about that. My child who is seven finds them difficult, but you'd expect that to be the case."