Followup: More on New Harry Potter Mini-Movie Rumor for Theme Park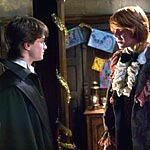 Jun 18, 2008
Uncategorized
A few days ago we told you about the latest report from UK tabloid the Sunday Mirror that said author J.K. Rowling had written "a brand-new Harry Potter story which is being turned into a mini-movie" that will star the trio of Dan Radcliffe, Emma Watson and Rupert Grint. This film would be played at The Wizarding World of Harry Potter, the "theme park within a theme park" at Universal Studios in Orlando, Florida that is set to open late 2009 or 2010. As this report has yet to be confirmed and remains in the rumor category for the time being, today Shawn Adler, author of the MTV movie blog, has a rather interesting piece online regarding this report and his thinking this may indeed be true. In the article, he says he was able to get a statement from folks at Universal who said "We're working hard to make the Wizarding World of Harry Potter at Universal Orlando Resort an exciting and authentic experience for our guests " but we're not ready to talk about its development."
While this statement neither specifically denies nor confirms the report about this possible mini-movie, Mr. Adler continues on with these interesting thoughts:
I'm guessing this story is somewhat real.
First, the statement from Universal is patently untrue. Here's an example of the very same people who told me they weren't going to talk about the park, talking about the park " on the Universal homepage no less. They have a FAQ and you can even sign up for email updates.
Secondly, and we're in real "murky marshes" here, the feeling I got from talking on the phone with reps was that something WAS going on, and that they were trying to figure out how best to spin it. I had more than one conversation end with the person I was speaking with promise to send me "information." Not a statement, not confirmation or a denial. But "information." Something's going on, and it wouldn't surprise me in the least to find out that it was a mini-movie.
And, frankly, it wouldn't surprise me for the simple reason that I always expected it anyway. Anyone familiar with theme parks knows these sorts of things happen all the time. If you're a fan of Disney World, think the mini-Muppet movie before their show, or Eric Idle's little talk before "Honey, I Shrunk the Audience' or C-3PO in the line at "Star Tours." There has to be something to watch while waiting in line, and Harry Potter is no different.
I have no doubt that this will include mini-movies with the stars of the films, and since J.K. Rowling has been so involved with the process, I have no doubt it will include her as well."
Editor's note: While all this is interesting to be certain, please feel free to weigh in with your thoughts below:Would you like to see a new Harry Potter mini-movie at the theme park? Would this make you want to see the park even more, or add to your enjoyment of the park?