Second Issue of The Quibbler Now Online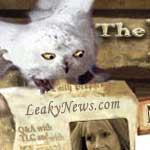 Jul 11, 2008
Uncategorized
The second edition of The Quibbler, our new magazine which prints "all the news you won't find anywhere else," is hot off the presses and ready to be viewed. This brand new issue can be read right here. A small diagram of the controls which show how to navigate the issue is also available via this link. This edition contains an expose on the phenomenon that is wizard rock, a fresh batch of letters to the editor, Luna's exclusive love life advice, a shocking new report on global swarming, and a page three girl Aberforth would be proud of.
The Quibbler was the creation of our own Rudis Hagrid, and this issue was produced by Leaky staffers wordsaremagic, Chloe, Mary Wanguard, Doris, Lunesta, libbysmom, Dreamteam, Moose_Starr, LunasLion, Dragonsinger, danae24, SeverineSnape, Isabel, Jamie, Iheartprofessorsnape, The Azkaban Dietician, rowena r, Lirene, Severitus, Makani, and Red Scharlach.
Be sure to discover all that the Quibbler holds today! Enjoy!