Robert Pattinson On "Twilight" and "Potter" Comparisons in New Interview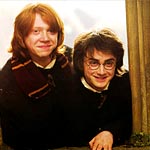 Jul 16, 2008
Uncategorized
Actor Robert Pattinson, who we first saw as Cedric Diggory in "Harry Potter and the Goblet of Fire," has given a new interview to MTV News for his upcoming film "Twilight," during which he speaks of the common comparison to the Harry Potter books and films. In the interview, Mr. Pattinson, who plays the character of Edward Cullen in the film adaptation of the "Twilight" book, relates his view that the style of the two books are "completely different." He then goes on to speak at some length about the comparison and what he feels makes the "Harry Potter" and "Twilight" series different. Quoteage:
"Twilight" is a first-person narrative. It's very obsessive, and it's a much more personal book, I think, than "Harry Potter" is, in a lot of different ways. There are only two characters pretty much in the trilogy. Well, I guess three, but essentially two. It's just about a love story rather than a massive adventure and an entire world. It's set as much as possible in the real world, so it's different.

…

There are obviously a lot of comparisons [to "Potter"], but really the only one is that it is a fantasy series. The way Stephenie Meyer writes, so much more of it is based in the real world than the fantasy world. It's not like there are goblins or something. The way a vampire gets made is you just get bitten by someone. I mean, it's just like a disease. They're not separate entities to the rest of the world. They are much more human. You're just a human, you get bitten by another human who's been turned into this thing, and you just have to live forever afterwards. And you have these powers, you have super-strength and really amazing agility, but the pros for being a vampire don't really outweigh the cons at all. … You can never reveal that you're a vampire, so you're just trapped in this kind of purgatory all the time.
Mr. Pattinson then goes on to talk of his role in more detail, saying his character "is [more substantial] than the character I played in "Harry Potter" [Cedric Diggory], mainly because the entire thing is based on Edward's character and who he is. He is very tortured and conflicted, which is very different from what I played in "Harry Potter." The interview wraps up with the actor describing his trouble keeping an American accent, his thoughts on being the dazzling character of Edward Cullen, and his feet.
Additionally, Robert Pattinson graced the cover of this week's issue of Entertainment Weekly along with his "Twilight" co-star, Kristin Stewart (Bella Swan). Two additional photos featuring Mr. Pattinson from inside the issue, can be viewed in our Image Galleries.