Crystallized Pineapple, Cinnamon Pixies, and Sugar Quills-Oh Yum!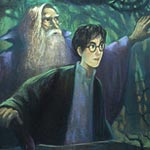 Aug 12, 2008
Uncategorized
Ever fancy some of Slughorn's Crystallized Pineapple as mentioned in "Half-Blood Prince?" Well now you can, as there is word tonight on some of the new candies being released this fall before the debut of the sixth Harry Potter film. MTV has an article online tonight detailing some of the new treats we can expect to find in stores, including Sugar Quills, Cinnamon Pixies (similar to the Pepper Imps), Peppermint Toads (There's different varieties of chocolate frogs " some are solid, others have rice krispies inside"), and the candied pineapple which MTV describes as "actual dried pineapple bits coated in sour candy." Other offerings include: Every-Flavor Chocolates (Like Every Flavor Beans, except instead of being Jelly Belly-inspired, these are more like M&Ms, with flavors like grape, pear, coffee, and raspberry, among others. "A strange hybrid of M&Ms and Skittles') Cockroach Clusters, Coconut Ice, Chocolate Wands, Floo Powder (There's 26 flavors of this stuff, from apple pie to root bear to lemonade, and they all come in little test tubes"), as well as Dementor's Kisses and even Unicorn Droppings (basically sugar-frosted marbles of gummy candy.)
Thanks to MTV for the heads up!