Excerpt from New J.K. Rowling Foreword to "Harry, A History" Now Online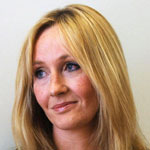 Aug 26, 2008
Uncategorized
Today, the Telegraph has a preview piece featuring an excerpt from the foreword that J.K. Rowling wrote for the upcoming book, Harry, A History by TLC's own Melissa Anelli. The piece focuses on how J.K. Rowling "finally cracked," she said, in 2002, and "Googled Harry Potter."
"I had already heard of 'The Leaky Cauldron'; it was one of the biggest and most popular Harry Potter sites on the net, and I had been told about a couple of great things they had done….But I had never seen it for myself, never realised exactly what went on there. I sat and read editorials, predictions, theories that ranged from strange to wild to perfectly accurate. I was, frankly, stunned – and I remain stunned."
The article also points out how J.K. Rowling says in the foreword that the book has filled in "an enormous number of blanks," and that:
"At long last I understand what was going on while I was holed up writing, trying to filter my exposure to Potter-hysteria…a great chunk of my own life has been explained to me. Melissa has filled in an enormous number of blanks. Reading the book you now have in your hands has been an astonishing experience for me. It is as though I have, at last, achieved the ambition I held for years: To go along to a bookshop at midnight on Harry Potter publication night, in disguise, and simply watch and listen."
Harry, A History, due out November 4, 2008, also features an extensive interview with J.K. Rowling and her editors, publishers, agents and more, as well as interviews with fans, booksellers and a lot more. The official Web site for the book is here; extra bits of canon from the extensive Jo interview are being posted on it intermittently (read about Hedwig's potential other fate), along with pictures of and thoughts about the Harry Potter phenomenon, and an entry with more information about the foreword, and how it came about may be found here. Amazon.com also features a download of an excerpt of the foreword on the page listing. If you would like, you can also become a fan of the book on Facebook, here.