PotterCast 135: Let Them Eat Cake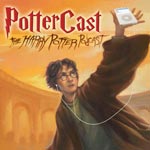 Jan 21, 2008
Uncategorized

The 135th episode of PotterCast, our Harry Potter podcast is here tonight featuring a special interview with the cake baker Duff, of Ace of Cakes, who created the masterpiece of flour, water, and so much more that attendees enjoyed at the LA premiere of "Harry Potter and the Order of the Phoenix" this past July. Photos of Duff's creation at the premiere and air times for upcoming Ace of Cakes episode featuring the Hogwarts cake can be found here. During this interview Sue and John discuss with Duff how he got the honor of creating this particular cake, how his team transported parts of this massive work across the United States, and of the detail and time he put into this work. We also bring you the latest on the news of author J. K. Rowling's upcoming commencement address at Harvard University, as well as talk of actor Timothy Spall's recent interview where he speaks of his role in the final Harry Potter film, and an update on the WB/RDR legal situation. To listen, just hit the "Play" button on the right side of the page (–>), or use iTunes, or direct download.
"Let Them Eat Cake"
– Deathly Hallows part 1 and part 2?
– Jo speaking at Harvard.
– Update on the RDR lawsuit.
– A really big cake made by really big HP fans.
– Charm City Cakes staff are all HP fans.
– Bella and her mask of goodness.
RT: 42:06
Editor: Stede Bonnett
Scribbulus
Podcast Alley
Digg
Terminus 2008
Direct download (22 MB).
Direct download low-bandwidth (5 MB).
Remember you don't need an iPod to listen. Listen easily on iTunes, which you can download and install here, by clicking here to listen, or you can just use the streaming Flash player at PotterCast.com or just on the right side of this page. Discussion of the PotterCast is right here. Enjoy!