Radcliffe, Watson Ranked in IMDb's Top 25 of 2007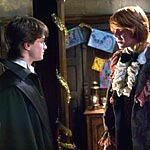 Jan 09, 2008
Uncategorized
Popular film and television resource, IMDb, recently released their list of the Top 25 Stars of 2007. As it was mentioned in the update of Emma Watson's Official Website we told you about earlier today, Emma was included on this list, as was her "Harry Potter" film co-star Dan Radcliffe. Based on the search behavior of the site's many visitors, this list was compiled to rank their list of top 25 stars. IMDb notes the following of the young actress who ranked 22 on the list:
Hermione Granger was back with a vengeance in this summer's Harry Potter and the Order of the Phoenix, and the young actress weathered a tabloid tempest that said she might quit the franchise (no worries—she won't).
Meanwhile, Radcliffe, who came in at 17, is listed for his work in "Order of the Phoenix" as well as his role in "December Boys" and the West End production of "Equus."
Thanks to Peanut!