New HBP Cave Scene Image and More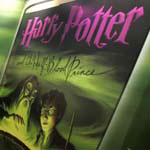 Oct 01, 2008
Uncategorized
Thanks to our Order partner Rupert Grint.net, we have a host of high res images from the newly released UK Harry Potter and the Half-Blood Prince sticker book to show you. Of interest is a new image from the cave scene with Dumbledore and Harry, as well as a new look at the Horcruxes of the ring, locket, diary and Nagini. Also new is a montage of Snape and potion making book, Gryffindor Keeper Ron, Draco and the Room of Requirement, Slughorn, and Young Tom Riddle, with a young Dumbledore talking to Mrs. Cole.
Readers will recall in the HBP test screening reports, we heard that Harry speaks to a waitress at the begining of the film: in this montage of photos from all of the movies, in row 2, sticker 3 there seems to be a photo of this waitress. Other scans include a second page of montage photos, Ron and Lavender, Tonks and Lupin, The Weasleys at the Burrow, Ron and an older picture of Hermione from CoS and finally Harry and Dumbledore at the Pensieve.
Many thanks to Lauren, RupertGrint.net, and Live Journal user White cerussite!