Chris Rankin Talks Percy in "Deathly Hallows"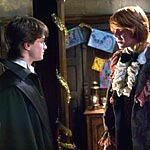 Oct 09, 2008
Uncategorized
As we reported a few days ago several actors from the Harry Potter films attended Ring-Con in Germany. HarryPotterXperts.de attended this event, and was able to conduct interviews with several of the actors including Chris Rankin, Stan Ianevski, and Jamie Yeates. Of note is a new interview with actor Chris Rankin, who said he hopes to return to his role as Percy Weasley in the "Deathly Hallows" films. Chris also gave his thoughts on Percy and what scenes he is looking forward in the final Harry Potter films. Of "Deathly Hallows" Chris said:
"One of Percy's finest moments is walking back through that portrait into the Room of Requirement at the end of the seventh one when he finally comes back. I can't remember what he says, something like 'Did I miss anything?' (laughs). I just remember reading that in the book and going 'YES! Good boy!'. That would be fun. And then obviously getting to do a bit of action would be quite nice because Percy doesn't get the hardest job really. He just walks around a lot and shouts at people. They might actually give me a wand if I did the seventh film, that would be nice. I haven't had a wand yet!"
On the role of Percy in the books, Chris was asked if felt Harry Potter author J.K. Rowling "wants to teach us some kind of lesson through Percy?" He responded: "There are a lot of morals in Harry Potter and everyone realises that Percy was an idiot and even Percy knew he was an idiot so whether or not she was trying to teach us that blood is thicker than water and all that, I don't know. I guess so. He's just a good character from the point of view that he is just a prick really. It's nice that he has the chance to come right in the end. I don't think it's wise to try and work out what Joanne K. Rowling is thinking because you could be there a long time."
At the link be sure to check out the various videos, including one of Chris singing! Enjoy! Of interest as well are two additional articles, including this new interview with Stanislav Ianevski who talks his role as Viktor Krum, noting on a possible return for "Deathly Hallows." Stan said that he doesn't "know yet. It depends if they want to bring Krum back. He comes in for a little part in the book but you never know. I would love to be back."
Finally, be sure to catch the interview with actor Jamie Yeates, who played the role of Slytherin Seeker Marcus Flint, who revealed that he has been hard at work pursuing a career in the film industry as an Assistant Director. He also spoke of his character by saying "He is a real obnoxious, big-headed, alter ego character and has this presence in the book when he's playing Quidditch that everyone fears him. He is a feared character because you know that he's continously out just to hurt people. They are generally frightened by that and when he smiles they're probably frightened even more."
Thanks to HarryPotterXperts!