J.K. Rowling to Host Party in Scotland for Release of "Beedle the Bard"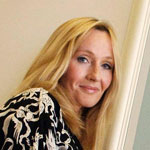 Oct 20, 2008
Uncategorized
The Scotsman is reporting today that Harry Potter author will be holding a tea party at the National Library of Scotland for the release of The Tales of Beedle the Bard. This special book, proceeds to benefit the Children's High Level Group charity, will be released on December 4, and "ten local schools will be asked to bring 20 pupils, aged between eight and 11, to the party." The paper reports that "members of the public will be able to win tickets for their school through a ballot held by the Evening News next month." UPDATE 2: The Guardian reports that Bloomsbury, Scholastic and Amazon will also be running competitions to give away places at the tea party. Jo will be reading excerpts from "Beedle" to the children at this event at the library, which "has also borrowed one of seven original handcrafted copies of The Tales of Beedle the Bard to go on display for a month." This copy of the book is the one given to her first editor, Barry Cunningham. UPDATE: The BBC reports the book will be on display to the public starting December 5 until January 4, 2009.

Jo is quoted as saying: "Hundreds of thousands of vulnerable children in Eastern Europe are
living in appalling conditions in large, residential institutions. Contrary to popular belief, fewer than 4% of them are orphans,
but are in care because they are considered disabled or their families
are poor or from ethnic minorities.
"The charity is publishing The Tales of Beedle the Bard to
raise money to fund our work in helping these children out of
institutions and in to loving families or community care homes. I hope that The Tales of Beedle the Bard will not only be a
welcome present to Harry Potter fans, but an opportunity to give these
abandoned children a voice. It will encourage young people across the world to think about
those who are less fortunate and help change many young lives for the
better."
Emma Nicholson of CHL said "We're thrilled to be hosting the launch in Edinburgh, a city
synonymous with JK Rowling and the world of Harry Potter, to raise
awareness of the plight of young people living not so many miles away.
"We
are extremely grateful to the National Library of Scotland and to Barry
Cunningham for agreeing to put on a Beedle display, and would like to
extend our thanks again to Bloomsbury, Scholastic, Amazon and the
various foreign publishers for their support on this very special,
charity publication."
The competition to win tickets will begin in the Evening News on Wednesday, November 5.