Bonnie Wright Contributes Artwork for Prince's Trust Charity Event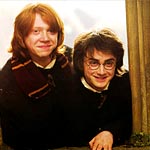 Oct 04, 2008
Uncategorized
Actress Bonnie Wright (Ginny Weasley) has contributed artwork for a series of album covers for the band Satus Quo, who are marking the fortieth anniversary release of their 'Pictures Of Matchstick Men' single, as part of a charitable event benefiting the Prince's Trust Charity. An image of the artwork, entitled "Time," can be viewed right here via our Order partner BonnieWrightOnline.com. Miss Wright joins such other entertainers and artists as Jamie Cullum, Charles Billich, Brian Wilson, and Alice Cooper in providing original artwork to be auctioned off for the charity. The Prince's Trust Charity aims to help young people reach their goals by providing the tools, education, and support the require. The Status Quo website, says this of Miss Wright and her contribution:
One of our youngest artists, but also one of our most famous, perhaps, is 17-year-old actress Bonnie Wright. Best known for her continuing role as Ginny Weasley in all five of the Harry Potter films ' from Harry Potter and the Philosopher's Stone in 2001 to the most recent, Harry Potter and the Order of the Phoenix ' Bonnie is currently set to reprise her role in the next film, Harry Potter and the Half-Blood Prince, where her Ginny character will be playing a leading role as Harry's main love interest.
While the anniversary release event is invitation only, bidding for the original pieces created for the event is available online. Set to take place on November 5th at Bonhams, the online bidding is set to finish "midday on the day of the Bonhams auction and the highest bids transferred to the auction room at midday on 5th November (the highest bidders online will be given the opportunity to continue bidding)." Further information can be found right here.
Many thanks to our Order Partner Bonnie Wright Online.