Tom Felton, Flying High and Swimming with Sharks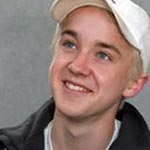 Oct 09, 2008
Uncategorized
Previously we told you actor Tom Felton (Draco Malfoy) would be featured on an episode of the UK reality program "Jack Osbourne: Celebrity Adrenaline Junkie." Thanks to our friends at Feltbeats.com, we now know this episode will be broadcast on ITV next month, at the end of November. Feltbeats also has a new interview online with the producer of the program, and has a few sneak peeks (and new photos) of the episode with Tom. In part one of the interview, the producer describes Tom's adventures for the show as follows:
"During our time in South Africa, Tom came face to face with a 700ft bungee from a bridge, a 20ft great white shark, a very exited ostrich, a stunt glider (which Tom had a go at flying) and a skydive out of an ex-U.S. military helicopter. Despite being scared of the bungee jump he showed real grit and threw himself into the challenge. Likewise, he conquered his fear time and again on the other challenges. He was a real trooper!"
Part two of the interview is due tomorrow, and we will update when it goes online.
Thanks much to Feltbeats.com for emailing!