New Sketches from Beedle the Bard and more in Mary GrandPre Iowa Exhibition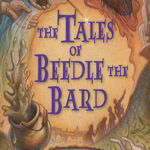 Nov 09, 2008
Uncategorized
An exhibition of works by artist Mary GrandPre has now opened at the Cedar Rapids Museum of Art in Iowa, and contains highlights of her work for magazine covers, posters, and notably pieces done for the US editions of the Harry Potter book series. A report has surfaced online saying this exhibit surprisingly contains new work from the upcoming Tales of Beedle the Bard, as well as work from future collector's editions of the books from Scholastic. Unfortunately no details are available as to what exactly these new pieces of art contain. The report notes:
The show is fantastic!!! 96 items on display and 38 of them are HP.
On display: 20 pencil sketches she did for Warner Brothers in '04 and
'05 and various scenes from books 1-5. These alone are worth going for!
They also had one color picture of the trio playing the chess game
(from book 1), cover sketches for books 1, 6, 7 (not just the final
cover published but covers that weren't chosen). The sketches for Book
1 had the original title (Harry Potter and the School of Magic) instead
of Sorcerer's Stone. Also, there were pencil sketches for Beedle the
Bard and some future Collector Editions.
The exhibition is ongoing now until February 5, with visitors under the age of 18 admitted free of charge. General admission for adults is $5 and seniors/college students with an ID is $4. Anyone attending the exhibit, please send in your reports and photos and we will gladly post. Thanks to MuggleNet.