Robert Pattinson, One Sexy Hufflepuff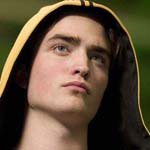 Nov 19, 2008
Uncategorized
He's a very sexy Hufflepuff, oh yes he is….or more accurately, says People magazine, who includes actor Robert Pattinson (Cedric Diggory) as one of the Sexiest Men Alive for 2008. Coming in at lucky number 13 on the list, the magazine writes:
"Last year all I was trying to do was get a girlfriend," says Pattinson, 22, Twilight's
resident vampire and previously Harry Potter's Quidditch foil, Cedric.
"What happened? It's like the face of what is attractive has changed.
Girls used to want to see guys take their shirts off. Now it's, 'I want
you to bite me.' It's bizarre."
Thanks much to FreedomStar!