First New Sketch from "Beedle the Bard" Now Online, Additional International Covers Released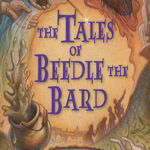 Nov 22, 2008
Uncategorized
The first new sketch from the upcoming The Tales of Beedle the Bard (and slight spoiler for those hoping to wait until December 4), has now surfaced online via the Bulgarian publisher of the novel. At this link, you can see several pages of the tale-written in Bulgarian. Also online is a new sketch by J.K. Rowling of the gravestone of Ignotus Peverell. Ignotus was of course mentioned in Harry Potter and the Deathly Hallows, as the original owner of the Invisibility Cloak and is buried at Godric's Hollow. (Update: these seem to have been taken down.)
Also online tonight are the Japanese cover for the Beedle the Bard book, seen here via Amazon, as well as the Spanish cover of the book, here in our galleries.
The Tales of Beedle the Bard will be released on December 4 in 23 countries, with proceeds of the sale of the new 128 page book by J.K. Rowling to benefit the Children's High Level Group charity.
Thanks to Harry Latino for emailing!