Rob Pattinson on the Cover of "Entertainment Weekly"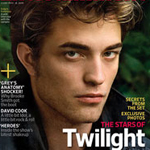 Nov 06, 2008
Uncategorized
Attention Twilight fans! Be sure to check out the new edition of "Entertainment Weekly" due out tomorrow, which will feature three different covers. One just released, seen here on the EW website, sports a face well known to us here in the Harry Potter world: actor Robert Pattinson (Hufflepuff great Cedric Diggory) who is now starring in the soon-to-be-released Twilight film in the lead role of Edward Cullen. You can also see a high res image of the cover featuring a handsome Rob here in our galleries. As readers will recall of course, Twilight will be released on November 21, the date that Harry Potter and the Half-Blood Prince was to be in theaters until WB changed the date until July 17 of next year. Of the comparison between the books and films, EW notes:
The last thing the filmmakers behind Twilight want to hear is that their movie is the next Harry Potter. Sure, it occupies the release date once held by the boy wizard. But while the seven-book Potter series has sold 400 million copies and generated $4.5 billion in worldwide box office receipts, Twilight is working off a global fan base
that has purchased only 17 million books. "We're not even 5 percent of
Potter sales. We're not even a toenail on that body," says director Catherine Hardwicke. "Ours is a character film, a little more sophisticated teenage Romeo and Juliet."
You can weigh in with your thoughts of the cover at EW, here. This issue of Entertainment Weekly will be available on newsstands tomorrow, Friday November 7.