New Contest for UK Residents to Win Trip to "Half-Blood Prince" Screening in LA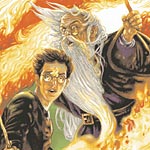 Dec 10, 2008
Uncategorized
UK retailer Marks & Spencer have opened a new contests where residents of the UK can win a trip to Los Angeles for a screening of Harry Potter and the Half-Blood Prince next July. Open now until December 31, and touted as a "Family Trip to LA," the store's website describes the trip including a " behind the scenes at the world-famous Warner Bros. Studios and receive
tickets to see the next installment of the magical Harry Potter films." Note: The contest does not specifically say this is for the premiere of the 6th Harry Potter film, but says "You may be one of the first to see it!"
The rules state that "the prize is for up to two adults and two children 15 years old or
under. At least one person travelling must be 25 years old or older.
Children must be at least 8 years old to tour the Warner Bros. lot.
3. The first prize also includes a screening of Harry Potter and the
Half-Blood Prince film (cert tbc) and is subject to availability. The
winner is eligible to preview the film in California, provided that the
trip prize is taken within 1 week prior to the film's national US
release." 300 runner ups will receive a Lord Voldemort collector's figurine.
To enter, click here. Good Luck!
Thanks to UHP for emailing!