Tickets Now Available for Harry Potter: The Exhibit Opening April 30, 2009 in Chicago, Props from HBP Included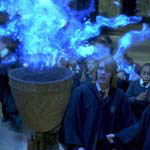 Dec 11, 2008
Uncategorized
Earlier this morning we told you Harry Potter: The Exhibit would be opening at the Chicago Museum of Science and Industry on April 30, 2009. Concept Art is now available in our galleries: Great Hall, and the Gryffindor Common Room, with the Exhibition Official Poster here. Tickets for the exhibition are now available via this link. According to the Museum website, ticket prices are as follows:
Tickets for this upcoming exhibit are currently available for online purchase only. Harry Potter: The Exhibition
requires a timed-entry ticket, either during regular Museum hours or
during extended evening hours from Museum closing until 9 p.m.
Combination tickets (good for general Museum admission and Harry Potter: The Exhibition)
are $26 for adults, $25 for seniors and $19 for children ages 3-11.
Between Museum closing and 9 p.m., exhibit-only tickets are $18 for
adults and seniors, and $15 for children ages 3-11
The Museum also states the exhibition (occupying some 10,000 square feet) have props and artifacts seen in the Harry Potter films, and notes these will "be displayed in elaborate settings
inspired by locations from Hogwarts School of Witchcraft and Wizardry
including the Gryffindor common room, Hagrid's hut and the Great Hall.
Guests will also get their first glimpse at items from the next film, Harry Potter and the Half-Blood Prince, which is scheduled to open in theaters on July 17, 2009."
In a release sent to us at Leaky, David Heyman is quoted as saying:
"Since 2000,
when we began production on the adaptation of the first of Jo Rowling's
remarkable books, we have had the great privilege of working with some of the
most talented artists and craftsman in the world' said David Heyman, the
producer of the Harry Potter films. "We are delighted that fans will
finally have the opportunity to see, in person, some of their favorite props
and costumes. We are looking forward to audiences enjoying the care,
creativity and attention to detail involved in their making, just as we do each
and every day on set.
The release also quotes reps from WB and the Museum noting: "We are
proud to present this unique exhibition, which captures the magic of Harry
Potter and will give fans of all ages a front row seat to some of the most
iconic artifacts and scenic elements from the beloved films' said Brad
Globe, President, Warner Bros. Consumer Products. "We are pleased
to debut this very special exhibit in Chicago at the Museum of Science and
Industry." "The Harry
Potter series has captivated the imaginations of children and adults throughout
the world' said David Mosena, President and Chief Executive Officer of
the Museum of Science and Industry. "We are delighted to be working
with Exhibitgroup/Giltspur and Warner Bros. Consumer Products to bring this
wonderful exhibition to life as it embodies our Museum's mission of
inspiring the inventive genius in everyone."
The Harry Potter Exhibition will be in Chicago from April 30, 2009 until September 7, 2009 before traveling on to other cities here in the US and internationally.