Jingle Spells 2 Now on iTunes and Amazon!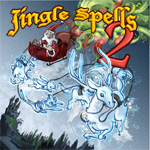 Dec 16, 2008
Uncategorized
Jingle Spells 2 – which is ALMOST SOLD OUT in hard copies – is now on iTunes and on Amazon.com! Only the hard copies (which you can order here) will have Frak's artwork inside the booklet, but if you have been waiting for the digital version, you need wait no longer. It's here! Enjoy it on iTunes, or download it on Amazon.com. These digital copies, just like the hard copies, will benefit Book Aid International and the HP Alliance.
Also, on December 3, we pledged all Jingle Spells proceeds to STANDFast, to aid people in Darfur and Burma: You guys outdid yourselves, and we donated $640 thanks to your efforts. That about enough to protect an ENTIRE Burmese village. Thank you.