Merry Christmas and Happy Chanukah!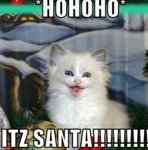 Dec 25, 2008
Uncategorized
As Chief Leaky Holiday Cheergiver, it's my happy pleasure to wish you all the happiest of holidays today and always. It's been a wonderful year for all of us and we're all very grateful – but more on that next week. For now, watch our first ever animated PotterCast special, courtesy Frankie, the Emo Nargles, and the Moaning Myrtles. (The animated part starts halfway in.) Have a great day!
(To find out whether Frankie saves everyone, subscribe to the channel. And you can do so by hitting the big yellow subscribe button on this page while logged into YouTube 😉
HAPPY HOLIDAYS, EVERYONE!