Steve Kloves Comments on WB Worrying over Anticipation for Potter Films ?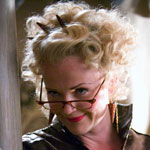 Dec 28, 2008
Uncategorized
The serious economic and credit issues facing all of us are hitting Hollywood as well, as noted in this new article from The Independent. The piece focuses on the financial concerns major film studios have regarding large scale big budget fantasy films, and makes mention of the Harry Potter films series. Without quotes, the article states that Harry Potter Screenwriter Steve Kloves has apparently made some new comments regarding Warner Bros and the upcoming Harry Potter and the Half-Blood Prince, and Harry Potter and the Deathly Hallows films. The article reads as follows:
Even Harry Potter, the most profitable franchise in film history, isn't
totally secure. Its screenwriter, Steve Kloves, said recently that
Warner Bros was worried about the prospects for the last three films in
the series, since J K Rowling is no longer driving anticipation for the
titles by producing new books.

The piece then continues to point out that "Harry Potter Surpassed 'Star Wars' and
'The Lord of the Rings', with $4.5bn (£3.1bn) in sales. Three installments remain. The 'Half-Blood Prince' will be released next year
."
We are uncertain as to when and where Mr. Kloves made these comments and are trying to obtain more on this interview; updates will be posted on this matter as soon as we can.