Alan Rickman to Receive Queen's Honour: Report proves false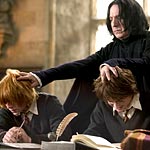 Dec 29, 2008
Uncategorized
UPDATE: Several readers let us know the full list has now been published and unfortunately the name of Alan Rickman is not included. We do not know if he declined the honor, or the Daily Mail article was simply incorrect, and we will update with more if we can.
Actor Alan Rickman is apparently on a list for those due to receive a special honour from the UK Monarchy. The Daily Mail is reporting that the Severus Snape actor is among those due to be listed in the annual Queen's New Years Honours, with the paper noting:
Alan Rickman is one of the few from the entertainment industry tipped to get an award.
The
62-year-old actor, who plays Professor Snape in the Harry Potter films,
has been one of Britain's most respected stage and screen actors for
the last two decades.
As noted on their official website the "UK honours system is used to reward people for merit, service or bravery. Honours are normally awarded twice a year. A list is published on The Queen's Birthday in June and at the New Year.
The British honours system is one of the oldest in the world. It has
evolved over 650 years as the country has found alternative means of
recognising merit, gallantry and service."
Readers will recall of course that Harry Potter cast members Julie Walters and Richard Griffiths were honored last year at this time. If true Mr. Rickman joins those such as Dame Maggie Smith, Robbie Coltrane, Imelda Staunton, Emma Thompson, Robert Hardy and Sir Michael Gambon among others who have also been recognized by the UK Monarchy with these distinguished honours. The official announcement on these awards is due by the 31st, and we will update with more when we can!
Thanks Jill!