Video from NYPL Beedle Unveiling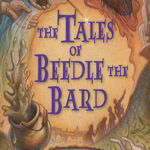 Dec 03, 2008
Uncategorized
Footage from this morning's event at the New York Public Library, unveiling Arthur Levine's copy of The Tales of Beedle the Bard, as well as video of the book itself, is now available in our video galleries (thanks to our speedy staff)! More will be added soon.
The book, close up.
Arthur Levine's speech
Q&A with Arthur Levine
New York Public Library President Dr. Paul LeClerc welcomes Arthur Levine.
Huge thanks to our uber-video-gurus at the Leaky Video Galleries for getting these up so fast! We have a five-minute wrapup of the event coming soon.