David Yates to Direct "Harry Potter and the Deathly Hallows?"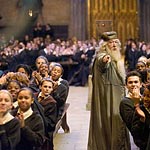 Feb 19, 2008
Uncategorized
There is a new report online today regarding the possibility of David Yates returning to direct Harry Potter and the Deathly Hallows. Children's author Lois Lowry has updated her blog with an entry regarding Mr. Yates who she had hoped would be directing the film version of her book "The Giver," but has now declined in order to helm movie seven in the Harry Potter series. Lois Lowry writes:
"David Yates, the director currently working on the next Harry Potter film, was supposed to begin The Giver film next. But he has just decided he wants to do the final Harry Potter first, thereby postponing The Giver by several years.
As reported previously, David Yates is working on Harry Potter and the Half-Blood Prince which is currently in production in London, England, and has been one of the many names previously rumored to direct the final Harry Potter movie. Readers will also recall that we recently heard from producers David Barron and David Heyman who said that a few directors were under consideration for the job, and that we would hear more on the status of a director and a possibility of a two- part Deathly Hallows film soon. As exciting as this news is, please consider this a rumor until we receive confirmation from Warner Brothers.
Thanks very much Dani!