PotterCast 139: We Can Do It!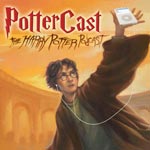 Feb 19, 2008
Uncategorized
This week's episode of
PotterCast, our Harry Potter podcast, is now online and ready for your listening pleasure. In our 139th episode, we have for you some new information regarding the casting of "Half-Blood Prince," the possible two-part "Deathly Hallows" film, and more about our upcoming fan conference in Boston, LeakyCon 2009. In Phoenix Files, the PotterCast Trio takes apart the next segment of the fifth film including the scenes involving the Arthur Weasley attack and Harry's emotional state afterwords. Next, in Bit-by-Bit, we turn to the second half of Chapter Seven, where the topics of the visit from Rufus Scrimgeour and the dragon Norbert are discussed. Our Scribby5 girls have the King of Pop on their minds, as they talk about a spoof essay now available online. Finally, we bring you an update on the PotterCast Acting Troupe along with much more. To listen, just hit the "Play" button on the right side of the page (–>), or use iTunes, or direct download.
"We Can Do It!"
– More about LeakyCon 2009.
– One snitch to rule them all.
– Vampire talk, cross-fandom style.
– Why does Dumbledore finally look at Harry when Harry is in such an emotional state?
– Norbert's… change.
– Voldy is the king of pop.
RT: 1:09:38
Editors: Stede Bonnett, Samantha McManus, Liz Turney and Andrew Garner
Scribbulus
LeakyCon 2009: A Harry Potter Conference in Boston
Podcast Alley
Digg
Terminus 2008
Direct download (32 MB).
Direct download low-bandwidth (8 MB).
Remember you don't need an iPod to listen. Listen easily on iTunes, which you can download and install here, by clicking here to listen, or you can just use the streaming Flash player at PotterCast.com or just on the right side of this page. Discussion of the PotterCast is right here. Enjoy!