PotterCast 137: There Should Be Cushions!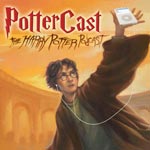 Feb 07, 2008

The 137th episode of PotterCast, our Harry Potter podcast, is now online and complete with a special interview with Lisa Wright DeGroodt, author of The Quest Series. During this interview Lisa speaks with Melissa, Sue, and John about her series, her writing process, as well as her plans for the future books in the Quest Series. Lisa sticks around to discuss the remaining part of Chapter Six "The Ghoul in Pajamas" in this week's Bit by Bit, in addition to a new Phoenix Files, where the topics of the Love Room and Neville are on our minds. Our Scribby5 girls also make their return with the essay "Still Got Your Wand in a Knot?" on their minds this week. Finally, our PotterCast Trio brings you the latest news on possible "Deathly Hallows" directors, "Half-Blood Prince" filming at Gloucester Cathedral, Jo Rowling's honor at the South Bank Show awards, and much more. To listen, just hit the "Play" button on the right side of the page (–>), or use iTunes, or direct download.
"There Should Be Cushions!"
– Neville's the man!
– "Half-Blood Prince" Filming News.
– Interview with author Lisa Wright DeGroodt on her Quest book series.
– Lisa thought is was a "Dirty" room.
– Don't listen to that, it's just the ghoul.
– Accio Horcrux Book!
– Professor Potter.
– The Scribby ladies talk about the essay "Still Got Your Wand in a Knot?"
– 448,000 PCs, three movies, and a Theme Park to go!
– Are You Smarter than John Noe?
RT: 1:02:38
Editor: Stede Bonnett
Scribbulus
Podcast Alley
Digg
Terminus 2008
The Quest Series
Direct download (29 MB).
Direct download low-bandwidth (8 MB).
Remember you don't need an iPod to listen. Listen easily on iTunes, which you can download and install here, by clicking here to listen, or you can just use the streaming Flash player at PotterCast.com or just on the right side of this page. Discussion of the PotterCast is right here. Enjoy!