Trial Date Set for JKR/WB vs. RDR Books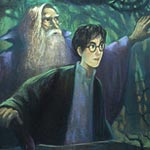 Mar 10, 2008
Uncategorized
A trial date has been set for the WB/JKR vs. RDR Books case, in which WB and JKR are attempting to stop publication of an unauthorized Harry Potter encyclopedia. The trial has been set for March 24, 25 and 26, starting at 9:30 a.m., at the United States Courthouse in Manhattan, a representative for the court said today.
This will take the place of what was to be a March 13 hearing to determine whether to grant a preliminary injunction halting the book from publication while the case moved to trial. The judge on the case, Hon. Robert Patterson, Jr., ordered that the hearing and trial on copyright/trademark infringement be consolidated. Whether the trial will be in front of a jury is yet to be decided. (ETA: Either side has until March 14th to demand a jury trial. Also the date as read by Justia for the start of the trial is incorrect; the trial is still scheduled for the 24th, not the 27th.)
A response to a letter by Dale Cendali, lawyer for WB/JKR, revealed that the judge wanted to have the "trial on the merits" on March 13 in order to save considerable time and costs. JKR/WB brought up several scheduling conflicts, including one involving JKR having to appear in court in England this week, to appeal a ruling regarding paparazzi pictures of her four-year-old son, David Murray. Cendali also mentions that the original schedule allotted time for the defendants to provide an Answer to the last complaint, and the six days' notice to trial would make that difficult. The parties met with the judge on Friday to resolve the scheduling conflicts and arrive at this trial date.
Related article updates: Fan zine editor David Langford has addressed the inclusion of his book in RDR's supporting materials; they cited it as one that was very similar to the proposed book, though Langford says:
"I can't see the likeness myself, and neither can JKR/WB, whose counter-filing agrees that the Langford epic wasn't marketed as 'an encyclopedia or guide'. I also heard from RDR, asking how I got away with it—that is, whether JKR/WB had been horrid to me. In fact, once Gollancz had let the author's agents see early proofs, all was sweetness and light."
He also quotes Terry Pratchett from an Independent interview of March 6, opposing JKR/WB: "Terry Pratchett, who has conspicuously failed to sue Andrew M. Butler for editing An Unofficial Companion to the Novels of Terry Pratchett, does not approve of this suit: 'In fantasy writing, accusations of copying are very difficult to make. […] You know who invented wizards? Who invented Goblins? If we were going to start paying royalties for nicking one another's ideas, we'd have all given our life savings to the Tolkien family a long time ago.' (The original article says the proposed book is "a 400-page reference book of potions, mystical creatures and the like for fans of the child wizard.")
The Right to Write fund, of which RDR Books owner Roger Rapoport is president and which was launched on Feb. 8 of this year, is also raising money for the RDR Books legal defense; this version of RTW (there are many organizations called "Right to Write" on the Web) is an offshoot of The Women's Center for Ethics in Action.
ETA: The Guardian has now published a story on the case in which lawyer Anthony Falzone says that the only sure thing in the case is that "whoever loses will try to appeal," among more quotes and rehashings.
It also has a claim from RDR president Roger Rapoport that the publishing company received one letter from the Christopher Little Agency and the next thing they heard from JKR/WB that they had filed the injunction. Publicly filed documents prove this to be untrue. Neil Blair from CLLA contacted Roger Rapoport in mid-September; between that time and the Oct 31 filing, as court documents show, there were several cease-and-desist letters sent from JKR and WB's lawyers, as well as correspondence granting Mr. Rapoport time to respond to attend to personal matters.
**
Since we are now in the fifth month of this case, here is a very brief summary of the actions in this case so far, with links so those who want to read further can do so:
On Oct. 31, JKR and WB filed a suit against RDR Books, which was attempting to publish a print for-profit version of unofficial online encyclopedia, The Harry Potter Lexicon. The book would be an encyclopedia of the Harry Potter universe, which JKR/WB said violated her copyrights and trademarks.
JKR made a statement on her Web site regarding the case. The Lexicon did also.
Deadlines for filings regarding a preliminary injunction on the book were set, and a judge issued a temporary restraining order to prevent publication while the merits of the preliminary injunction request were reviewed. RDR took the book down from pre-ordering on their site; the TRO demanded it be removed from Amazon as well.
Amidst announcements of postponed filing dates, Stanford's Fair Use Project joined up with RDR Books to provide legal assistance. In late December J.K. Rowling discussed her encyclopedia, jokingly referring to it as "The Scottish Book," on our podcast, PotterCast.
In January, JKR/WB made their full filing requesting a preliminary injunction (part one, part two).
RDR Books requested copies of JKR's notes for her encyclopedia and was denied.
Fan zine Ansible published a letter from the Lexicon author stating his case; the New York Times also published an opinion piece favoring RDR (later rebuffed by a Harvard law blogger and faculty at the U. of Mich).
In early February, RDR filed its response to the complaint.
In late February, JKR and WB responded.
On March 7, the judge on the case consolidated the hearing for a preliminary injunction with a trial on the merits of the case, and set dates of March 24, 25 and 26th at 9:30 a.m. for the trial.