David Heyman Talks Splitting Deathly Hallows, Both Films Possibly Two and a Half Hours Long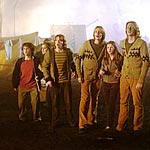 Mar 14, 2008
Uncategorized
Empire magazine has a new interview with Harry Potter producer David Heyman on the decision to make two films out of Harry Potter and the Deathly Hallows. In this new article, David Heyman describes the thought process behind the decision to split, debating on whether to make a "four and a half hour film," or the possibility of both as "two and a half hours long" and much more. He also declines to say where the split in the book will come as "don't have the first script. We do have a point roughly where we want to end, but we haven't got a draft to know if that works yet."
On the matter of splitting and length of the films he says quote: " We just thought how are we going to approach this? Is this going to be a four and a half hour film? That's probably what it would have been. Would our audience really embrace that? In some way, I think they might. But I think the younger ones would have drifted. There's always been difficulty making sure that the ones that are two hours, two and a half hours long ' making sure that those are the right length. I think by having two films that are two and a half hours ' although we're not sure of the length ' then it will be a richer experience. One of the challenges that faces us, which we've been discussing, is how to give each film its own identity. We want them to feel like one film, but they've got to be self-contained too. We feel now that we've got a really good angle on that. But we haven't got a script yet on either part, so I don't want to say too much."
Empire: So these films will be the same length as the ones that came before? We won't see two films that clock in under two hours?
David Heyman: No. The idea is to get everything people want in there. I'm sure there'll be parts that don't make it, which we won't know until the script is written. But that is the idea.
Empire: What do you think is the natural separation point in the books? Where can you end the first film in a satisfying way?
David Heyman: It depends what feeling you want [to end on]. I don't want to answer that just yet because we don't have the first script. We do have a point roughly where we want to end, but we haven't got a draft to know if that works yet."
In addition there are comments on the discussion with Harry Potter author J.K. Rowling on the decision to split the book, how the cast members (especially Dan Radcliffe) would handle the filming, and says again they will begin filming both movies at the same time, starting next February. Finally of note are some of the scenes David Heyman is looking forward to in the movies, as he says:
"Well, the final battle, but there's so much. I love the character stuff. I love the resolution of Dumbledore and Snape. I love the multiple Harries at the beginning. I love the scene of Hermione trapped at the Malfoys'. I love Harry and Hermione in the forest. I think there's so much, it's such a rich fabric. What we've done now, which I think is really exciting, is that we've found thematic centres for each of the films. That gives the film heart. I think it's pretty great that David Yates has crystalised it and¦it's early days still, so I'm not going to say too much. But I'm just thrilled that David Yates decided to come back, because he's really found a new spirit for the sixth film and as we talk about seven, it's very different as well. I think it's going to be good."
Harry Potter and the Deathly Hallows Part One will be released Holiday (November) of 2010, with Harry Potter and the Deathly Hallows Part Two due May (early summer timeframe) 2011.
Thanks Sarah and Davey!