Ralph Fiennes: Not in "Half-Blood Prince," Has Not Signed Yet to Return as Voldemort for "Deathly Hallows"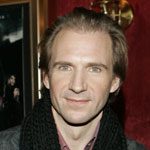 Mar 04, 2008
Uncategorized
While promoting his new film "In Bruges" actor Ralph Fiennes gave a new interview where he discusses his role as Lord Voldemort in the Harry Potter series. Ralph says he will not be appearing in the upcoming "Harry Potter and the Half-Blood Prince," and has not yet signed for "Harry Potter and the Deathly Hallows." He discusses the fact he "particularly liked" doing "Goblet of Fire" under the direction of Mike Newell. Noting that he was never an avid reader of the Harry Potter book series he says that it wasn't until he went "to the premiere of the first one I did, I got a real sense of the extraordinary nature of it all." Quotage from the interview with Ain't it Cool is as follows:
Capone (of Aint It Cool) Are you even in THE HALF-BLOOD PRINCE?
RF: The one they're shooting now, no, I'm not in it.
Capone: So it's just your nephew that's playing¦
RF: My nephew is playing, I think just for a couple of scenes, the younger Voldemort [Tom Riddle]. I understand that the bulk of the bulk of the backstory of Voldemort is played by another, slightly older actor [Frank Dillane].
Capone: And have you signed on for the final film yet?
RF: I have not yet, no.
Capone: Has it been fun seeing yourself rendered serpentine for the two films your are in?
RF: Yeah, I particularly liked doing the first one. The second one, I think Voldemort is placed more as a sense in Harry's head, whereas in the first one I did with Mike Newell directing, there was that fantastic scene of his rebirth in the graveyard, which I enjoyed doing. I've enjoyed making the movies, but I was never an avid reader of the books. It just wasn't something I went towards. When I went to the premiere of the first one I did, I got a real sense of the extraordinary nature of it all.
Capone: Were there small children in the audience screaming at the site of you?
RF: Yes! The volume of people and the noise and excitement; it was a huge phenomenon, the whole thing is definitely. And I actually think that the David Yates-directed one, the last one, was particularly good. I liked the style of it; it was grown up. and had an edge to it, the way it was shot and lit. It's a franchise that could so easily have not developed, but I think just filmicly it has been developed, and the producers have been very smart to keep it alive and present and edgy.
Caution to Parents: Strong language in comments via theentire article at this link. Thanks Laura!