Report: Shrieking Shack Due at Harry Potter Theme Park and More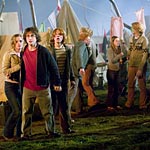 Apr 11, 2008
Uncategorized
We have another interesting rumor tonight regarding plans for The Wizarding World of Harry Potter Theme park under construction in Orlando, Florida. This report says that plans continue to develop for the theme park, and a special Shrieking Shack is to be one of the new attractions, which will have the feel of The Haunted Mansion at Disney World. It is uncertain if this will be a year round attraction, or one they use specifically during the Halloween Horror Nights, which will feature a Harry Potter theme. Dementors are set to make an appearance around the Shrieking Shack, in addition to the Halloween events featuring the Death Eaters "walking around with Voldemort terrorizing people" near this area.
As a followup to our previous report on possible attractions at the theme park, word is that there will indeed be a stage show which will feature "the ending of book four'. The report also says "When they cast for the part of Harry, they will be looking for college boys around the age of 18 to play the part. They will be hiring about 7 people just to rotate that specific part." Also the report states plans are already underway for a major opening day for the park, featuring the appearance of cast members such as Emma Watson (Hermione), Rupert Grint (Ron), Bonnie Wright (Ginny) and Robbie Coltrane (Hagrid), as well as possibly Dan Radcliffe (Harry) and author J.K. Rowling. Please note all of this is very much unconfirmed and should remain in the rumor category for the time being.
One final point of note is word that the Harry Potter attraction will possibly now span both the Islands of Adventure and Universal Studios. Rumor is that discussions are underway considering the possibility of a blending of the two parks to allow for this larger Wizarding World of Harry Potter area (and possibly eliminating the Jaws ride) with one admission to include entrance to all the parks. The Orlando Sentinel has a small mention tonight which noted that "Universal Orlando is building a new footbridge across part of the lagoon, between the lower garden walks behind the Jurassic Park Discovery Center an area that's currently a backstage (employees only) area behind the Mythos Restaurant" where the author speculates if plans call for the bridge to be the bridge between the new Wizarding World of Harry Potter area now under construction on the other side of the Jurassic Park Discovery Center (behind a wall) and some of The Lost Continent attractions that could be rethemed for the new Wizarding World, including the Enchanted Oak Tavern.(map of the parks here). Again, please keep all of this as unconfirmed as we are working to find out more information, and will update with more when we can.
Thanks again T !