Helen McCrory on Narcissa's Wardrobe in "Half-Blood Prince"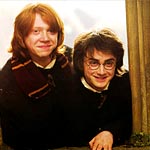 Apr 15, 2008
Uncategorized
Actress Helen McCrory is featured in a new article from the Times Online briefly discussing the attire we will see her in as Narcissa Malfoy in the upcoming "Harry Potter and the Half-Blood Prince" film. While unable to give specifics about what her character will be wearing, she did relate the sensitivity of information such as a character's wardrobe, saying: "I play Narcissa Malfoy in the new Harry Potter film. If I told you what I was wearing, I would probably have to kill you; it's a bit like working for MI5." Mrs. McCrory does go on to talk a little more openly about the style of the costume she'll be wearing, stating:
"My costume is very couture, with beautifully sculpted silhouettes. The costumes are designed by my Parisian friend. Of course, style was battered into her at an early age."
Images of the actress sporting many of the the looks she goes on to discuss in the article can be viewed right here in our image galleries.
"Harry Potter and the Half-Blood Prince" will hit theaters November 2008.