Video Showing "The Tales of Beedle the Bard" Security Measures and More Now Online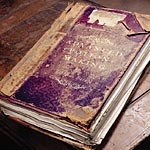 Apr 18, 2008
Uncategorized
There is a new video online this evening from Yahoo!News which gives a closer look at "The Tales of Beedle the Bard," the handwritten and illustrated book by J. K. Rolwing containing five stories referenced in "Harry Potter and the Deathly Hallows." The video shows the immense security measures taken to guard this most valuable item and gives a few details on the unique aspects of the book. Daphne Durham, Managing Editor of Books for Amazon.com, is interviewed and reveals when viewing the book up close, you can tell the original text in the book was done in pencil, then followed over in ink by J. K. Rowling. Seeing details such as that, along with others, Miss Durham explains "is like shaking hands with the author." Other topics including J. K. Rowling's handwriting, the illustrations, and the upcoming Amazon.com contest to spend a weekend reading the book are also featured in this short video.
As readers will remember, Amazon.com announced the contest to win a trip to London and a private viewing of "The Tales of Beedle the Bard" early last week. In order to enter the contest, those over the age of 13 are asked to "creatively write a short, English-language submission of 100 or fewer words answering one of the following three questions:
What songs do wizards use to celebrate birthdays?
What other sports do wizards play besides Quidditch?
What have you learned from the Harry Potter series that you use in everyday life?"
Submissions must be received by April 22nd. For more information and links to enter the contest, click here.