EA Announces "Half-Blood Prince" Game Due This Fall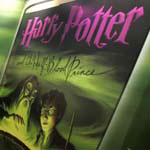 Apr 22, 2008
Uncategorized
Attention all Harry Potter video game lovers! EA, makers of the Harry Potter games, announced today that the upcoming Harry Potter and the Half-Blood Prince video game will be released to coincide with the arrival of the sixth Harry Potter film, which is due in theaters November 21, 2008. According to TeamXBOX, in this new game "players will return to Hogwarts to help Harry survive a fraught sixth year. They will also have a chance to engage in exciting wizard duels, mix and brew magical ingredients in Potions class and take to the air to lead the Gryffindor Quidditch team to victory. Players may even get sidetracked by Ron's romantic entanglements as they journey towards a dramatic climax and discover the identity of the Half-Blood Prince. " Update:As included in the TeamXbox above, be sure to check out the first still of the game, or you can see it here in our galleries.
Reps for the companies involved are cited with the following statements: "We believe that the Harry Potter and the Half-Blood Prince video game represents a milestone in the movie tie-in genre' said Harvey Elliott, Head of EA Bright Light studio in the UK where the Harry Potter franchise has its home. "Building on the technological advancements of previous games in the series and with a particular focus on the unique control system of Nintendo's WiiTM, the team here is working closely with the filmmakers to create an immersive interactive experience that captures the story, the action, the excitement and, above all, the fun of the film. "
"Working with EA, we look forward to offering fans a compelling Harry Potter video game, one which captures the thrilling storyline and high visual quality of the movie' said Scott Johnson, Vice President, Business Development for Warner Bros. Interactive Entertainment. "The adherence to the rich fiction is a trademark of this franchise and with Harry Potter and the Half-Blood Prince fans will experience the most authentic and enjoyable game in the series to date."
We will update when pre-orders for the Half-Blood Prince game become available. The game is due to be released on the Wii, Playstation 3, XBOX 360, Playstation 2, PSP< Nintendo DS platforms as well as for Windows PC, Macintosh, and mobile devices.