Happy Birthday, Robert Pattinson!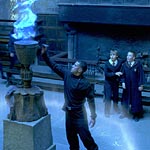 May 13, 2008
Uncategorized
Happy Birthday wishes go out today to actor Robert Pattinson, who portrayed Hufflepuff Cedric Diggory in the "Harry Potter and the Goblet of Fire" film. Mr. Pattinson is celebrating his 22nd birthday today.
Also today, actress Zoë Wanamaker, who portrayed Madame Hooch in "Sorcerer's Stone," is celebrating her 59th birthday. Many happy returns on the day!
Happy Birthday, Robert and Zoe! Cheers!