Final Voting Now Open in Amazon.com Beedle the Bard Ballad Writing Contest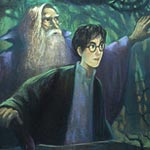 May 14, 2008
Uncategorized
The two finalists in Amazon.com's Beedle the Bard Ballad Writing Contest have been chosen after a week long voting period we told you about earlier where the public picked a top entry in the 13-17 age group and 18 and over categories. As we reported previously, the winner of this contest will receive a weekend with the handwritten tale by Harry Potter author J. K. Rowling in London, England. In the 13-17 year old category, 16-year-old Rhiannon D. from Australia was chosen along with Laura H. of Fresno, Calif., who was named the finalist in the 18 and older category. In the press release, Rhiannon said this of being picked as one of the two finalists:
"I'm so excited to have made it this far in the contest. I never imagined I'd be chosen as a finalist. Thank you, Amazon customers!"
Laura H. of the 18 and older group shared the enthusiasm and is quoted as saying:
"It's a dream come true to be a finalist in this contest. I want to thank all the Amazon customers who voted for me. I couldn't have made it this far without you."
The final round of voting is open now and will run through May 19th. You can vote for the winner on Amazon.com at this link. Amazon.com will announce the winner on May 22nd.
As readers will remember, Amazon.com purchased this handwritten copy of "Tales of Beedle the Bard," stories which were mentioned in "Harry Potter and the Deathly Hallows," at a charity auction earlier in the year. One of only seven in existence, until now only photos and short summaries have been revealed to the public. Amazon.com features further information and photos at this link.