JKR/WB vs. RDR Books Trial: Chicago Tribune article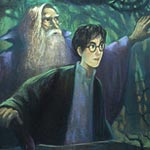 May 03, 2008
Uncategorized
The Chicago Tribune speaks to Roger Rapoport of RDR Books, the publishing company that is involved in a legal battle against JK Rowling and Warner Brothers over the rights to publish a book version of the HP Lexicon website.
Not a Potter fan, Mr. Rapoport was unfamiliar with the Lexicon website until he saw a newspaper profile on Vander Ark in July 2007.
"I couldn't understand why this book hadn't been published yet," he said.
Rapoport is reportedly unworried about the outcome of the trial, having been told by his attorneys that "no court has ever ruled that the writer of a fictional work is the only person who can write about that book."
According to the article, Rapoport's has received free legal help from Stanford University Law School's Fair Use Project. Donations to his Right to Write Foundation (formed, according to its mission statement, as "an educational repository and clearinghouse for the 21st century freedom of expression and "fair use" issues writers and publishers encounter when moving between the worlds of print, internet, film, the fine arts and new media") have further offset costs.
Rapoport was asked about JKR's statement from the stand of "I never ever once wanted to stop Mr. Vander Ark from doing his own guide, never ever. Do your book, but, please, change it so it does not take as much of my work."
""That opportunity was never presented to us," he said, his eyes flashing with anger. "The only thing they said [in the lawyer letters and pretrial discussions] was: 'Will you stop the book?'"
Tribune article author Patrick Reardon also speaks to Steve Vander Ark, creator of the Lexicon site and main author of the Lexicon book.
"During a telephone interview from London, where he moved earlier this year to write other Potter-related books, Vander Ark said he was "devastated" when Rowling's lawsuit was filed against RDR books, even though he wasn't named as a defendant. "We certainly had no intention of doing something which would hurt her feelings," Vander Ark said."
The article reports that Vander Ark has received "nasty emails" since the lawsuit became public.
"It was disheartening how quickly people were more than happy to turn on me," Vander Ark said.