Part of Young Lucius Malfoy Cast for "Half-Blood Prince"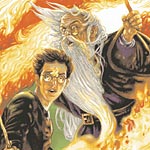 May 03, 2008
Uncategorized
With filming due to wrap up in the next few weeks for the upcoming Harry Potter and the Half-Blood Prince casting still is being revealed for the sixth movie. As such, word now comes that the part of a young Lucius Malfoy has been cast for the movie, with the role to be played by Tony Coburn. You can see a photo of this young actor here. Thanks to Alejandro from Bloghowarts.com for emailing regarding a short interview they conducted with the actor, where the 18 year old said his character of the younger Lucius appears in a dinner scene with Professor Slughorn. Other quotes of interest:
BlogHogwarts: Have you read any of the Harry Potter books before getting the role?
Tom Coburn: I hadn't seen any films before or read any books UNTIL i got the role and thought I should watch how Malfoy is and I saw Order of the Phoenix to get an idea of his character. I didnt even need to audition cos they said i looked very much like Jason Isaacs when he was younger so i was picked immediately for Young Lucius Malfoy.
BH: Have you filmed your scenes for 'Half-Blood Prince'? In which scenes are you involved?
TC: The scenes have been shot and was at a dinner scene with Professor Slughorn. I have aslo been an extra in Dumbledore's death scene which was a night shoot.
BH: Who did you work with? Who did you meet?
TC: I acted with Jim Broadbent and was in the death scene with Micheal Gambon, Daniel Radcliffe, Maggie Smith and Robbie Coltrane.
BH: How did you feel participating in a Harry Potter movie?
TC: Its amazing to be in the film and would never have imagined that I would feature in one, even though the part is small, it's still fantastic fun.
On a related note, we've heard reports that actor Jason Isaacs, who plays the adult Lucius Malfoy, took part in a one day filming for a quick scene in HBP, although that remains very much unconfirmed for now. Harry Potter and the Half-Blood Prince will be released in theaters November 21, 2008. Thanks to Tony and Bloghogwarts.