"Half-Blood Prince" News: The Return of Opal Yarn Images, New Casting and More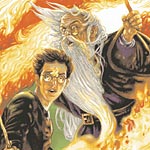 May 08, 2008
Uncategorized
There are a few pieces of news related to the upcoming Harry Potter and the Half-Blood Prince yet today. First, readers will recall previously there was a purported ad promoting the sixth Harry Potter film seen on container for yarn of all things. Although a few of these images also appeared on the Opal yarn website, WB told us the cardboard stand marketing was a fake. Today, thanks to our Order partner RupertGrint.net, we know that same yarn company has now uploaded eight new images of yarn, with labels featuring cast members and clearly marked Harry Potter and the Half-Blood Prince in German. These images show Harry and Ron, Lupin, Malfoy, Dumbledore and more. You can see them here at the yarn website UPDATE: You can also see them here in our galleries. In addition, we have also contacted WB again regarding this manner, and of course, will update with more as soon as we can.
Casting news for Half-Blood Prince also continues to trickle out. TLC reader Lisette emailed to say she spotted several new casting mentions for extras in the film, including an actress named Teresa Mahoney who will be playing "Sofie (Boardroom -Opening Scene)." While we had heard rumors that the opening scene with the Other Minister was to be cut, we are uncertain as to what this may mean.Other casting include Dean Garnham as a Slytherin student, and Daniel Barnett as a "Slughorn Ball Graduate."
Finally, ABC Family has announced that Harry Potter and the Prisoner of Azkaban will be re- broadcast on May 24. While rumors are rampant that the teaser trailer for Half-Blood Prince is due soon in theaters, we do not know at this point if any new HBP footage will be broadcast during this show as well. Readers will remember of course, that several times previously new film footage and sneak peeks have aired in previous Harry Potter films showing on ABC family, however we do not know if this will hold true for HBP. We are working to learn more about this, and again will update as soon as we can.