Craft Yourself a Hogwarts House Friendship Bracelet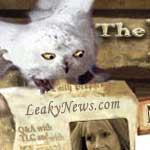 Jun 16, 2008
Uncategorized
It is time once again to pull out those crafting wands for Leaky's own Crafty Witches are gearing up for our next Craft Along Event. Starting on July 1st, we invite you to join us in crafting your very own Hogwarts House Friendship Bracelet in the House colors of your choice. This circle of Hogwarts friendship and House pride is easy and fun to make with the whole family. More information on this project, along with a step by step look at the crafting process, can be found in this guide from Quietish. In order to prepare yourself for the start of the July event, you will need the following supplies:
DMC embroidery floss in chosen house's colors
Gryffindor – Red 815 (MC), Gold 676(CC)
Hufflepuff – Yellow 973 (MC), Black 310 (CC)
Ravenclaw (book) – Blue 336 (MC), Bronze 680 (CC)
Ravenclaw (movie) – Blue 336 (MC), Silver 415 (CC)
Slytherin – Green 935 (MC), Silver 415(CC)
Safety pin
Scissors
Tape
The Crafting Corner of our Leaky Lounge forum also has a special section dedicated to our bimonthly Craft Along Events with additional resources. Even more ideas for crafts of all kinds can be found in our expansive Craft Section here on Leaky. Now is the time to pick up materials for your very own Hogwarts House Bracelet before the event starts on July 1st. Happy Crafting!