Actor Daniel Craig Buys Uncorrected Harry Potter Proof at British Movie Auction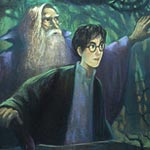 Jun 18, 2008
Uncategorized
Previously we told you of the Great British Movie auction that was to include several rare props from the Harry Potter films as well as a uncorrected proof of Harry Potter and the Philosopher's Stone by J.K. Rowling. That event was held in London, with James Bond actor Daniel Craig the new owner of this rare proof. The Guardian reports that the bidding for this Harry Potter copy was actually between actor Hugh Grant (Four Weddings and a Funeral, Bridget Jones) and Daniel Craig (Casino Royale), with the paper noting:
"The bidding for the Potter proof escalated into some serious splashing of cash, as Grant stepped in at £11,000, only to be joined by Bond man Craig. As diners held their breath the two were locked in a bidding tussle until it was knocked down to Craig, at a princely £18,000. The auction was conducted by Lord Dalmeny, deputy chairman of Sotheby's UK, with such panache that several directors were said to be eyeing him up for a character role."
Photos of this event, attended by actor Alan Rickman (Professor Snape), "Goblet of Fire" director Mike Newell, and Potter producer David Barron can be seen here via WENN,with photos of actor Robbie Coltrane (Hagrid) here via Getty, along with others such as Hugh Grant and Daniel Craig. Proceeds from this auction will benefit the National Film and Television School, the same school that OotP and HBP director David Yates attended.