Riddle Me This With New Two-Part Leaky Contest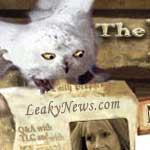 Jun 02, 2008
Uncategorized
Our Leaky Contest Crew has launched a new two-part contest which will span the months of June and July. This contest will stretch your mind and test your wits as we ask for Harry Potter related riddles for you to solve. Part One begins today with a call for riddles which relate to a person, place or thing found in the Harry Potter books. Submissions must be received by June 22nd, at which time the five best submissions will be chosen, added to five additional riddles, and posted in the Contest Corner every Tuesday and Friday during July. Part Two then begins, asking you to give your answers to the complete set of ten riddles. A full schedule of the riddle postings can be found right here. Once all ten riddles have been posted and their answers emailed to the Contest Crew, those who have answered the most riddles correctly will be entered into a drawing, along with the authors of the five riddles we used in Part One, to win one of three wands from Wizard Wood Wands.
As with all contests, anyone over the age of 13 not involved in the judging process may submit up to three original riddles in June and/or submit their answers to the ten posted riddles during July. Submissions in Part One of this contest must be mailed to [email protected] by June 22, 2008 at 11:59 pm (EDT) with "Riddle Entries" in the subject line of the email while answers to Part Two must be sent to the same email with "Riddle Answer" in the subject line, according to the schedule linked above. Complete information on both parts of this contest can be found at on the Contest Page.
Good luck to all who enter!